Megara Resins was awarded for its emphasis on innovation and sustainable exports growth in "Diamonds of the Greek Economy 2017", a business excellence event organized by New Times Publishing. Dr. Charalampos Varelas, Commercial Director of Megara Resins, received the award during a ceremony held at the Grande Bretagne Hotel in Athens, in the presence of state officials and over 500 representatives of the country's most dynamic business groups.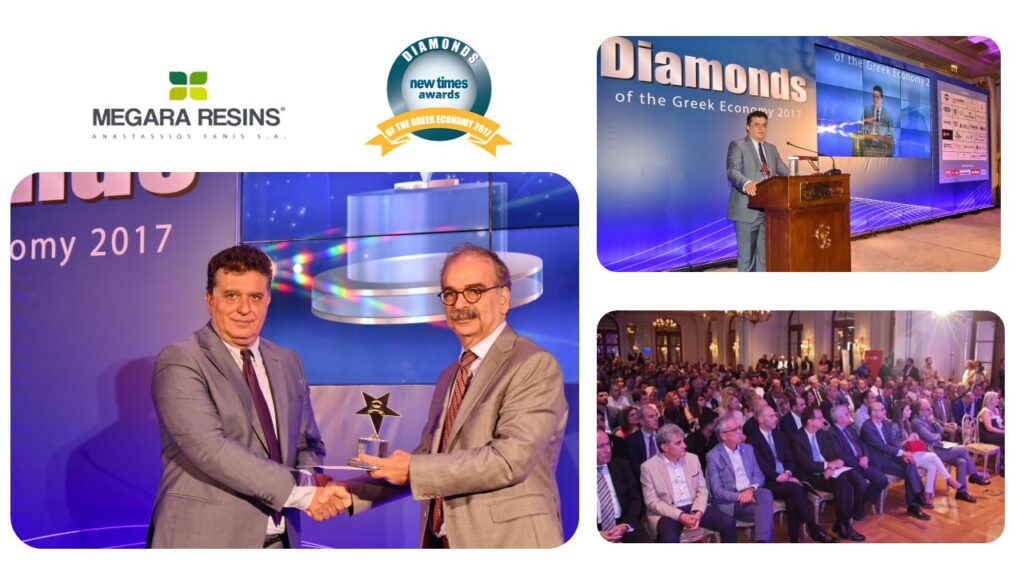 Dr. Varelas commented: "Megara Resins continues its strategic global expansion and business development in developed and emerging markets. In 2016, we reported an increase of our sales revenue by approximately +14% vs. 2015 as a result of organic growth and intense export activity with key presence in four continents and in more than 55 countries, representing over 80% of our turnover.
Megara Resins invests in innovation as it is the engine for competitiveness and growth, and has therefore launched in 2016 a new Innovation Centre situated in Avlida, comprising a highly proficient team of senior scientists. The research activities are supplemented by an international network of collaborations with leading universities and scientific research institutes".
Watch the full award ceremony: